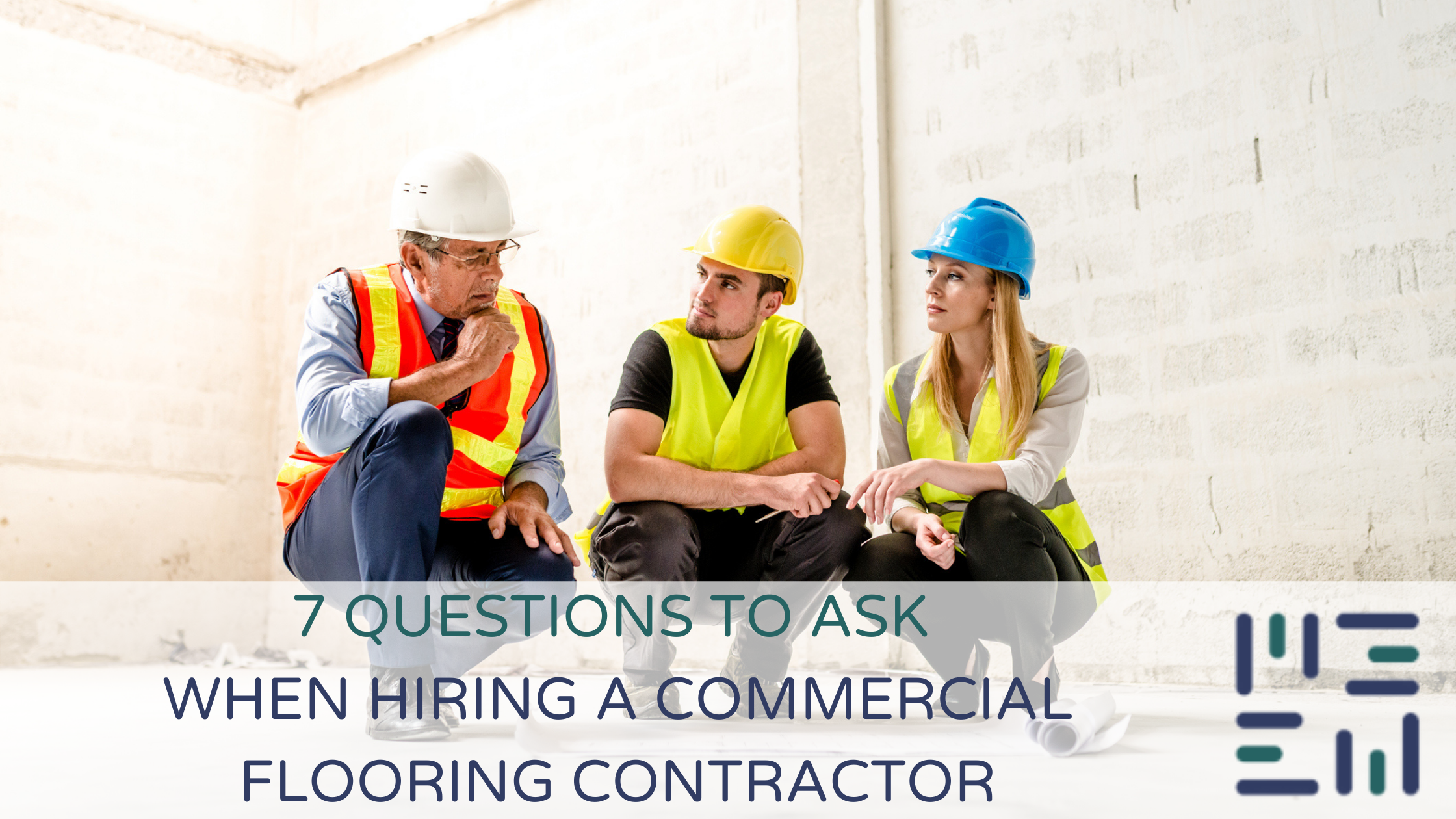 7 Questions to Ask When Hiring a Commercial Flooring Contractor
Undertaking a commercial flooring project is a serious endeavor. Finding the right contractor that will do quality work the first time—all within your budget— is vital. An unprofessional project can mean huge losses of money productivity.
To ensure that doesn't happen to you, be sure to think about and ask these seven important questions before selecting your flooring contractor.
1. DO I NEED TO PREPARE ANYTHING?
Depending on the capabilities and manpower of your contractor, you may need to move anything not bolted down from the work area. This could involve hiring a separate moving company, so it's best to seek out a company that can provide all services in-house to save you time and money.
2. ARE YOU LICENSED AND INSURED?
This may be the most important question to ask to determine the professionalism and expected quality of work from your contractor. With any major renovation or new build project, there's a chance something will go wrong. Pipes or wiring may be damaged, or walls and ceilings may suffer dents and scrapes. With the proper insurance in place, these incidents are covered with no trouble for you. Though it is rare to find a contractor operating without a license and insurance, it's still worthwhile to ask for your peace of mind.
3. WHAT WILL THE PROJECT COST, AND WHAT CAN INCREASE THAT COST?
A reliable upfront estimate is key to making decisions about project scope and budgeting. Reputable installers may ask for a deposit on the work, but not full payment up front. There are instances where the cost of a project may increase from its estimate, as no job can be perfectly predicted ahead of time. Major deviations from the estimate, however, are not the norm. Make sure you collaborate with an expert contractor who can identify any foreseeable roadblocks in your project before they become a big problem.
4. WHAT IS THE ESTIMATED PROJECT TIMELINE?
Your time is precious to you. During installation, the section(s) of the building being worked on might be inaccessible and will be unavailable to work in. Timelines will vary by size and scope of the project, so your contractor should provide you with a segmented work schedule and regularly check in with you about progress. Even if your floors are installed and cleanup is complete, it may take a few days before your new floor is ready for foot traffic again.
5. DO YOU HAVE REFERENCES I CAN CONTACT, OR CASE STUDIES AVAILABLE?
We highly recommend asking for references, so you know exactly what to expect. There's no better way to judge professionalism and project success than by speaking with another customer. If you have a particularly large project, you may even want to visit a former job site to see your contractor's work in person. Your contractor may have also recorded their work themselves —in the form of case studies or web pages you can visit to see photos both in progress and after project completion.
6. WHAT STEPS WILL BE TAKEN FOR WORKSITE CONTAINMENT AND CLEANUP?
Any installation or construction is messy work. Proper site prep is vital to ensure your building looks better than it did before work began. Your contractor should isolate the work area and control any dust and fumes to the best of their ability. When the project is finished, all that should remain is the hard work of the installers, not any unexpected mess for you to deal with. That's why it's important to ask about the containment and cleanup steps your contractor will take.
7. WHO DO I CONTACT IN THE FUTURE?
Our last bit of advice is that it's worthwhile to ask who you can contact in the future with any questions or concerns you may have. Some contractors will provide you with a single point of contact to make this easy, while others will put you in touch with a sales representative, the head installer, and other leads on your project. We recommend grabbing a card and keeping it on file until your project is complete.
PAUL LINO IS YOUR ONE-STOP COMMERCIAL FLOORING CONTRACTOR
At St. Paul Lino, we provide all the commercial flooring services you need from start to finish, including furniture moving and cleanup. We'll be happy to answer all your questions and look forward to making your commercial flooring project as smooth and professional as possible. Contact us today to get started.