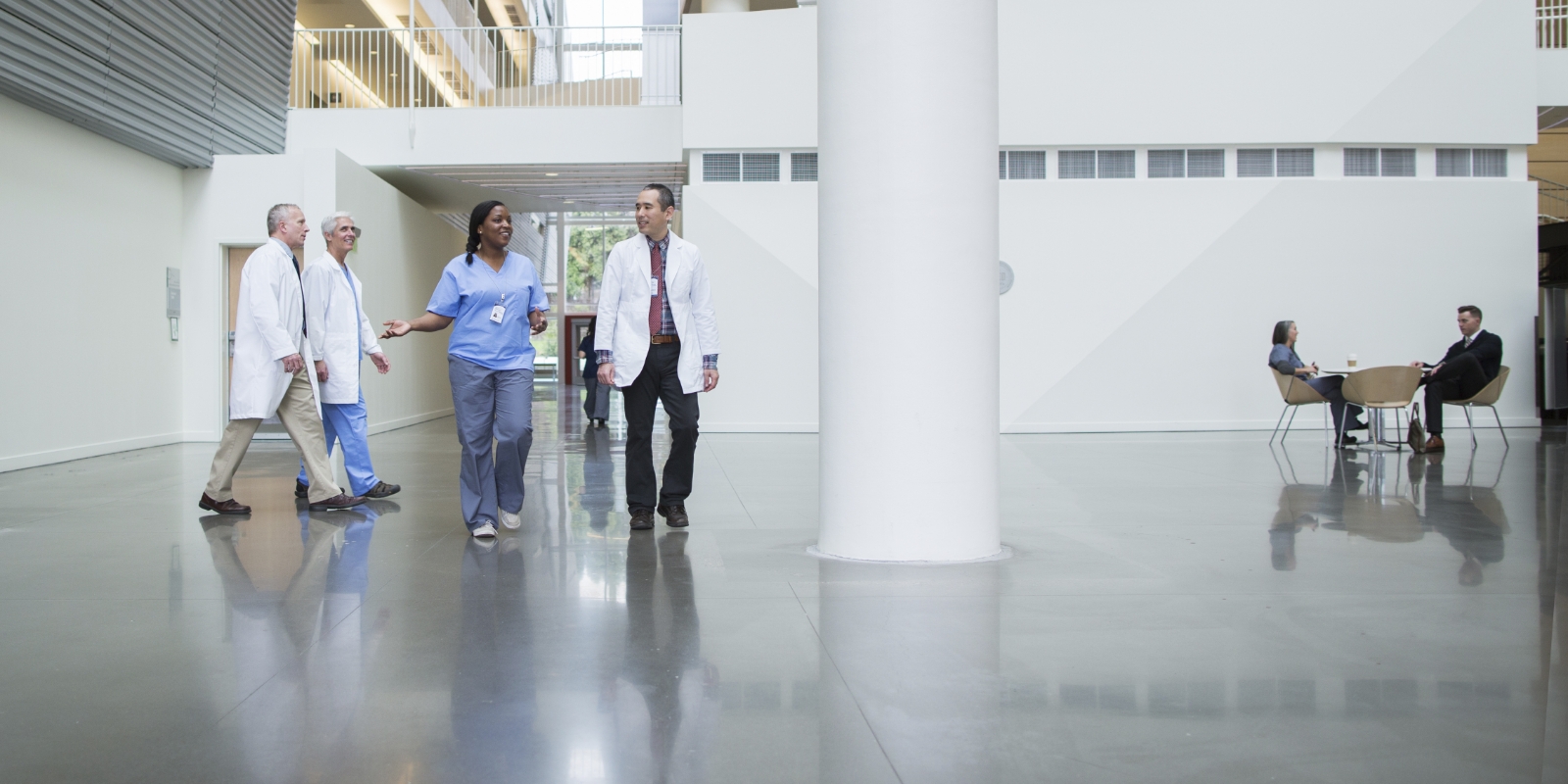 Exploring Flooring Solutions for Every Room of Your Healthcare Facility
Healthcare facilities ranging from hospitals and rehabilitation clinics to dentist's and doctor's offices have unique flooring needs that must accommodate heavy traffic, hygienic demands, aesthetic desires, and more. Each space within these facilities may call for a different kind of flooring, which can make determining the right solution an especially big challenge.
Here is a look at some of the best healthcare flooring options for every room of your facility based on look, performance, durability, safety, and more.
Reception Area: The reception area is the first impression of your healthcare facility. In addition to receiving a ton of foot traffic, it is also the first space that patients and visitors see, so it is essential to choose a flooring solution that is both durable and welcoming.
Carpet tiles are a great option for this space as they provide comfort, noise reduction, and are easy to maintain. Thanks to its modular design, if a carpet tile gets damaged or stained, it is easy to remove and replace without disrupting the rest of your flooring.
Waiting Room: The waiting room is where patients and visitors spend most of their time, so it's crucial to choose a flooring solution that is both comfortable and easy to maintain.
Luxury vinyl tiles (LVT) are a great option as they are slip-resistant, easy to clean, and have a range of colors and patterns to choose from. LVT is scratch- and scuff-resistant and allows you to repair or replace single tiles as needed without having to replace the entire flooring system.
It's attributes like these that have helped make LVT the fastest-growing segment of all resilient flooring types.
Patient Rooms: Patient rooms require a flooring solution that is comfortable, safe, and easy to clean, in addition to providing a welcoming and hygienic appeal.
Carpet tiles can be used in some patient rooms, but they may not be the most hygienic option. In these cases, LVT or sheet vinyl are often better alternatives. They are easy to maintain, offer excellent slip-resistance, and come in a wide range of colors and patterns. Sheet vinyl patterning and imaging has become increasingly popular within the patient care and healing process, and this flooring solution is capable of being customized to meet your visual appearance goals.
Operating Rooms: Operating rooms require flooring solutions that are hygienic, slip-resistant, and easy to clean. For these reasons, sheet rubber, sheet vinyl and epoxy flooring are your best choices for operating rooms as they are non-porous, easy to clean surfaces.
The walls are also a top consideration in securing the sterility of these rooms. High-impact, heat-formable wall cladding is great for these spaces due to its hygienic properties and its ability to be combined with sheet vinyl or slip-resistant rubber flooring to form a complete hygienic system.
Our wall cladding is designed to provide an unmatched level of protection and durability while reducing maintenance costs typically associated with routine wall repairs.
Laboratories: Laboratories require flooring solutions that are easy to clean and can withstand harsh chemicals and spills. Epoxy flooring is an excellent choice for laboratories as it is resistant to chemicals and spills and can provide a seamless surface that is easy to clean and maintain.
Once the resin layers of epoxy flooring are applied and have cured, its mechanical and chemical resistance properties form a strong and permanent bond that acts as an impenetrable barrier in protecting the substrate beneath it.
Hallways and Corridors: Hallways and corridors are additional high-traffic areas that require a flooring solution that is durable and slip-resistant. LVT and rubber flooring deliver on both of these factors in addition to absorbing noise in these areas. LVT and rubber flooring are also easy to maintain with a long lifespan.
Cafeteria: Cafeterias have the combined need of safety and aesthetic appeal, thus requiring a flooring solution that is attractive and low-maintenance. LVT is a great option for cafeterias as it is slip-resistant, easy to clean, and available in a wide range of colors and patterns. LVT is also durable enough to withstand the high foot traffic of these common spaces.
Administrative Offices: LVT can also serve as a great option for the offices within your facility, but carpet may provide the visual appeal you're looking for in these more behind-the-scenes spaces.
Carpet tile offers modular designs and flexibility, available in squares, planks, hexagons, and other shapes. It is available in a wide range of sizes and can be manufactured with an attached cushion for added comfort and support in the offices of your healthcare facility.
Achieve Beauty and Performance in Every Room of Your Healthcare Facility with St. Paul Lino
St. Paul Lino brings nearly a century of experience to every project, helping our clients in healthcare, retail, hospitality, corporate, and more achieve durable, aesthetically pleasing flooring and wall cladding solutions designed to meet their needs. We partner with leading manufacturers to make sure we find the perfect solution to fit your specific performance, design, and budgetary needs.